Safari Times, June 2022 Page 29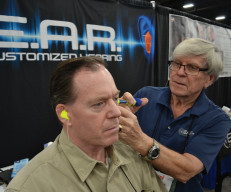 Garry Gordon, an audiologist and founder of E.A.R., Inc., is offering several products that are made with firearms shooters in mind.
"Approximately 51 percent of the hunters and outfitters we see at the SCI Convention report having a noticeable hearing loss," said Gordon.
Gordon started E.A.R. Inc. in 1971. He fits shooters with custom ear molds that can be used to create several products. EAR also is a marketing arm for hearing protection companies around the world.
One of the most recently added products to his list is SoundGear's Phantom, the first Bluetooth-enabled, customized and rechargeable hearing protection devices. The technology automatically suppresses loud noises, such as gun blasts, yet allow the user to amplify safe sounds, such as voice conversations at the range. Literally, it suppresses noise over 90 decibels (dB) and amplifies quieter noises by 30dB.
"It's like having a prescription of the client's ear canal," said Gordon. "E.A.R.'s lab can also duplicate anything that is custom fit and convert it into a new product. New technology that will follow is being able to simply insert a probe into the ear that accurately scans the canal without using impression materials."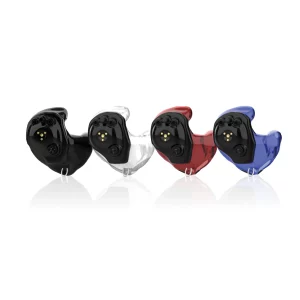 Another new project that Gordon is offering is designed to stop the condition of tinnitus.
According to research, 30 percent to 40 percent of those who participate in shooting sports complain of tinnitus — an annoying ringing and buzzing in the ears. Many therapies are available to reduce tinnitus with varying success. But Gordon is promoting a partnership with AudioCardio called "threshold sound conditioning" that can be used with just a smartphone, app and regular earphone. The app generates personalized sound therapies to help stimulate and strengthen hearing and ear cells. The app assesses your hearing and delivers a custom sound therapy once a day for one hour. The therapy technology detects the key frequencies that have lost sensitivity (commonly due to noise exposure and aging) and exercises them with personalized sound signals. According to the company, most customers reported significant changes to their hearing after consistently using the app for 14 to 21 days. AudioCardio is offering a one-month free trial at app.audiocardio.com/ signup, promo code EAR30.
Gordon's research and customer interaction over the years have resulted in many quality products available to shooters, musicians, industrial workers and anyone in need of ear protection or hearing aids.
E.A.R. Inc. has been a longtime SCI supporter. Contact Gordon at earinc.com.
Whether you work with Garry Gordon or any other hearing protection company or audiologist, here are a few questions Gordon recommends people ask before buying anything.
Who is the manufacturer of this product, and what is the warranty?
What is the process to get service or follow up? Do I call a specific office or reach someone on a cell phone who has no office?
If service or repair is required, how long does it take and what is the average cost?
In the event I am not happy with the results, what is the privilege to return?
Where were you trained and how long have you been in business?
What is the bottom-line expense for my purchase in addition to the length of the warranty?