HearDefenders-DF™ (Dual Filtered) hearing protection features VARIABLE ATTENUATION. As noise levels go up, noise suppression goes up, allowing speech and radio communications to be heard!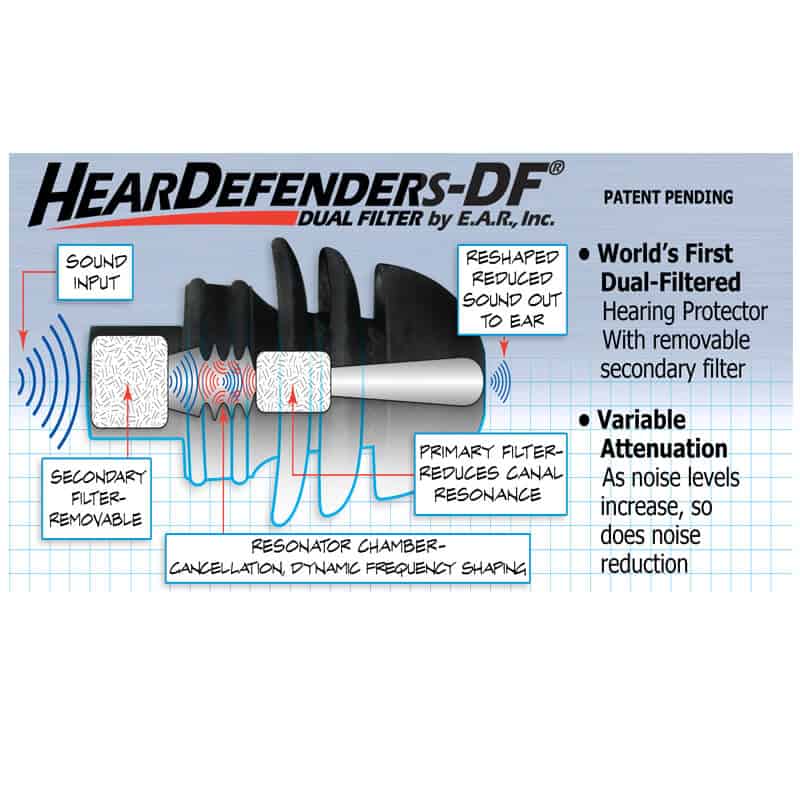 Advanced filter technology
Improves speech & radio communication without distortion or muffling
Fits comfortably under helmets
External filter is removable
Floatable and moisture resistant
Breathable filter allows for pressure equalization
Can be used with cell phone
Very affordable
Durable – lasts 2 – 3 years
Easy to use and clean
Available in three generic sizes S-M-L or custom fit
Available in black or orange
Attenuation Study was conducted from 50 dBa to 110 dBa verifying how attenuation values increase as noise levels increase. When compared to average performances from solid ear protection, HearDefenders-DF™ clearly demonstrate the ability to hear critical sounds better while suppressing unwanted noise. The information above refers to attenuation provided when both filters are worn.
Note: The U.S. Environmental Protection agency requires manufacturers to provide a noise reduction rating (NRR) on all hearing
protection type products being marketed into most commercial type accounts. According to EPA Document 08AR-2003-0024
exception to this requirement may be granted to entities participating in National Security.
OSHA regulations state volume levels of 80-85 dB are safe for an eight hour period of time. Please consult a hearing healthcare professional who can advise you about safety levels and appropriate filtering options.