Colorado-based audiologist Garry G. Gordon, MS, has been spreading the message now for decades: more audiologists need to embrace the notion that they're not just there to "fix" hearing loss, but also to prevent it in the first place through education about hearing protection and custom earmolds.
Life is loud, with decibel levels commonly encountered in lawnmowers, snowblowers, and vacuum cleaners often exceeding safe levels. Fun pursuits such as powersport vehicles, motorcycles, and shooting/hunting only up the ante and move the discipline of recreational audiology into the "essential" category.
As CEO of E.A.R. Inc, Gordon has been a champion for recreational audiology, and worked with the Academy of Dispensing Audiologists (ADA) to create a formal definition for this subcategory of hearing protection. According to the ADA, recreational audiology is "the practice of hearing conservation and consumer education regarding products and services used to enhance and preserve hearing occupations and environments that may not be regulated by governmental agencies."
Gordon's passion for the topic has not waned. These days, he's still spreading the gospel via E.A.R. seminars sanctioned by the Council for Accreditation in Occupational Hearing Conservation and approved for certification as an Occupational Hearing Conservationist (OHC). "When we started, many audiologists were somewhat interested, but they did not want to give up their weekends when most of the recreational events occur," Gordon remembers. "They were making $4,000 to $6,000 selling hearing aids, so not many went out and did things in the recreational market."
Related Article: Capitalizing on Opportunities in Hearing Care: An Interview with Garry Gordon
Gordon believes serving the recreational market can jump-start 2021 and lead people to better hearing and the purchase of hearing aids.
"This is so profitable when you know where to go and what to do," he says. "Just having recreational items and going to the audience is not going to cut it. You must know what they will buy and the associated price points. You're going to see numerous people who have untreated hearing loss and who are open to buying devices to protect their hearing."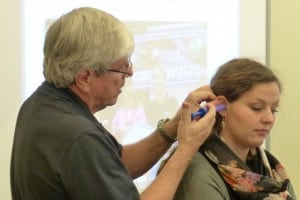 The sports gun market alone, for example, is valued at $2.4 billion with a CAGR of nearly 10%, and Gordon estimates that almost half of shooting enthusiasts have untreated hearing loss. "The opportunity is there," he says. "These sports of motorcycling, car racing, trap skeets, and sporting clays are all expensive hobbies. These people have money and are not concerned about how they'll pay for this—and they need hearing protection and hearing help. Most will pay right away."
However, that's not always the case, says Gordon. In some instances, someone may pay $500 to $1,000 for a set of electronic earplugs—but then express sticker shock when it comes to hearing aids. For these people, Gordon sees a definite role for financing programs.
"Some people can't believe hearing aids are $4,000 to $6,000," he says. "In this case, they would be interested in financing a product to have better hearing, even more so now since there have been layoffs during the pandemic and income streams have changed. People might say, 'Hey, I can afford hearing aids if I can pay $200 to $300 per month.'"
In addition to more training, Gordon recommends that audiologists get out of their comfort zone and eventually make plans to attend more recreational sports shows and expos in their region that would benefit from the involvement of audiologists and hearing aid specialists, particularly in the post-COVID era. "When we're doing trade shows, I don't see audiologists. Where are you?" he asks with a chuckle. "We're beginning to go to our trade shows and we're seeing but no audiologists. If we can get the audiologists out there, it's going to be very beneficial."
About the author: Greg Thompson is a freelance writer and a former editor of Physical Therapy Products and other publications. He is based in Loveland, Colo.
Originally published in The Hearing Review.