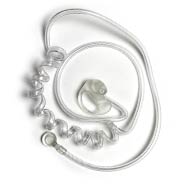 The custom fit design allows for two-way radio transmissions between a base operator and field operative to occur via a small connected clear coiled air tube that is attached to a receiver, which is typically worn underneath clothing. The unobtrusive design allows the earpiece to be worn in the ear, yet remain virtually invisible to outsiders.
The Skeleton/IFB Communication Earpiece can be made in three styles:
Fully Occluded – Solid – Complete isolation from the outside surroundings
Semi-Occluded – Filtered – Vented, and/or with an acoustic filter to allow for some outside surroundings into the ear
Non-Occluded – Open – Fully non-occluded to allow for all outside surroundings into the ear
Each style is available in silicone, vinyl or acrylic material*.  Shoulder-mic harnesses, and any required radio adapters, are sold separately.  The harness is available in 2.5mm, 3.5mm and 3.5mm threaded jack connections.
Intrinsically Safe Harnesses are based on limiting energy, electrical and thermal, to a level below that required to ignite a specific hazardous atmospheric mixture. Harness comes with a 3-year warranty