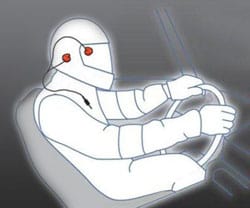 In the amateur and professional racing circuit, communications is a must for pit crews and drivers. Relaying vital strategic plans throughout a race along with communicating current positions, and/or possible upcoming hazards on the track is an invaluable asset to a racing team's success.  Now is the time to ensure you are relaying vital information with our Racing Raceceiver Monitors CFV.
Our racing molds are used by drivers in a variety of motorsports – speed boats, Grand Prix stock car, snowmobiling, NASCAR, motorcycles, etc. – who demand the best in high-fidelity communications when competing in today's strenuous race course conditions.
These custom fit version are an upgrade from our generic foam units. Custom fit for better comfort and durability, these units provide excellent sound suppression characteristics underneath any racing helmet.
Features:
2-Hz Frequency Response
16KHz, /- 4dB
115 dB SPL Maximum output
Weight is less than 1 oz. plus ear molds
Standard 3.5mm mono jack plug
Helmet Connection Monitor(s) cord length is 19″ long. Raceceiver Connection Monitor(s) cord length is 36″ long. Package includes cleaning tool, replaceable foam tips, round zipper case and racing harness.