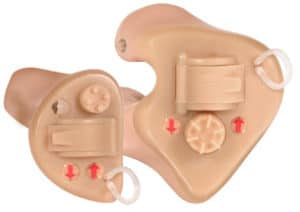 The Digital Advantage unit uses the basic backbone of digital technology, with simple bandwidth circuitry. It features two manual adjustment potentiometers that allow the user to control the bass and treble tones and set them according to their own preference.
$1,000.00 – Pair
$   500.00 – Single Side

The Digital Advantage is a custom made product.
---
To Order:

Print off our order form, and request from us to find your closest provider who will assist you in completing your order correctly, take payment and send everything in for final processing.  OR, order a DIY Impression Kit and make your own ear impressions with help of a colleague, friend, or family member.  The price of the kit will be reimbursed when it is returned completely with appropriate order form(s). 
Read More »