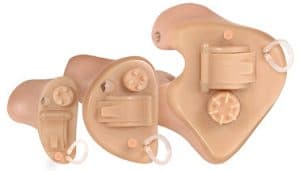 The Digital Primo Multi-Memory is our highest level unit within our electronic hearing protection series. It features additional aspects for programmability and is designed to address further high and mid level hearing loss candidates. Every Custom Electronic comes with a lanyard loop for an optional removable cord.
$2,900.00 – Pair
$1,500.00 – Single Side

The Digital Primo Multi-Memory is a custom made product.
---
To Order:

Print off our order form, and request from us to find your closest provider who will assist you in completing your order correctly, take payment and send everything in for final processing.  OR, order a DIY Impression Kit and make your own ear impressions with help of a colleague, friend, or family member.  The price of the kit will be reimbursed when it is returned completely with appropriate order form(s). 
Read More »