Product Description
The E.A.R. MiniCanal™ Quick Fit 6™ has been specifically designed for those clients wanting a multi-functional device that can be worn as an Electronic Hearing Protector or as a PSAP (Personal Sound Amplifier Product). Use the non-vented Comfort Tip or silicone tip for hearing protection and the vented tip or a Propeller Tip when used as a Personal Sound Amplifier.
Like all of E.A.R.'s electronic series, the E.A.R. MiniCanal™ Quick Fit 6™ is 100% digital with a 6-channel processor that automatically reduces damaging noise above 85 dB while amplifying quiet sounds, ensuring clear communications, sound directionality and 360 degree situational awareness. There are 4 memory modes that can assist with background sounds. The E.A.R. MiniCanal™ Quick Fit 6™ is ergonomically designed with a CIC (Completely In Canal) body design that fits comfortably within the ear canal.
Use the non-vented Comply or Silicone tips for hearing protection and use the vented or Propeller tips when used as a Personal Sound Amplification Product (PSAP).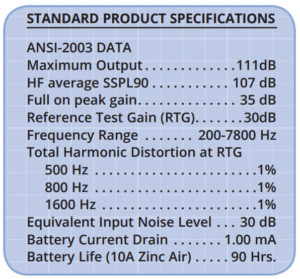 FEATURES:
Body Style: CIC (Completely In Canal)
Water resistant P2i nanocoating.
Multi-Memory with BEEP indicator, easily switchable by pressing removal handle:

Mode 1. Indoor Mode. Basic mode for indoor speech and communication.
Mode 2. Increased clarity for speech and communication.
Mode 3. Good for listening in noisy situations.
Mode 4. Best mode for loud activities such as hunting or shooting.

Improved Adaptive Feedback Cancellation with faster adaptation times to adapt quickly to changing feedback conditions.
Up to 20dB noise reduction in quiet environments.
Ultra high audio fidelity.
Optimized ultra-low power consumption and processing efficiency for longer battery life.
Advanced technology provides a clear comfortable signal even when abrupt irritating noises are present.
Enhanced intelligent algorithms identify unwanted background noise without suppressing speech.
Removable, easy to install lanyards are available.
Battery: Size 10A Zinc Air, providing estimated 90+ hours of use.
Warranty: Limited 12 Months
PACKAGE INCLUDES:
Large black carrying case
Small black Velcro carrying case
6 Pack of size 10 batteries
3 Sets of propeller tips
3 Sets of comfort tips
Cleaning tool
Removable lanyard